When Alvin Levy takes over as president of the American Contract Bridge League in January, he plans to concentrate on five major items:
Get bridge into middle and high schools.
Keep the game in balance at all levels of play.
Concentrate on promotion and sponsorship.
Promote all forms of bridge
Work toward a strong and successful world presence.
But before we get into all that, let's find out who Alvin Levy is. First of all, he prefers to be called Al. He was a scientist/engineer in the field of structural mechanics and material science. He retired in 1998 to play more golf and bridge and to concentrate more on bridge administration.
Over the past 20 years he has served on his Unit and District Boards in many capacities. He is serving his third term on the ACBL Board of Directors.
He started playing bridge in college after reading a book by Charles Goren. "For years Terence Reese was my favorite author and his books helped me discover the game."
Years ago he developed a strong interest in computer bridge. In fact, he was the organizer of the World Computer Bridge Championships which were staged for the first time in 1997. "The two finalists this year, Jack, from the Netherlands, the reigning world champion, and WBridge5, from France, this year's runner-up, played particularly well."
Here is what Levy had to say on various subjects pertinent to the ACBL.
"Here is how I see the present and future of tournament bridge in North America. Tournament bridge is currently healthy and exciting. Its success is due mainly to our unit and district level volunteers, who run organized bridge throughout North America (with the exception of the NABCs). It is remarkable that there are so many dedicated volunteers who give back to the game they love. It speaks highly of our game and what it has to offer. Helping and encouraging these volunteers should remain a priority of the ACBL.
"Units and districts are the sponsoring organizations for sectionals and regionals. A challenge they face is how to run appealing tournaments that are financially successful in spite of rising costs and a slightly declining membership. The ACBL can help in a number of ways, including encouraging a good working relationship between the professional directing staff and the sponsoring organizations and finding ways of holding down the rising fees charged. All in all, tournament bridge is doing well in spite of these challenges. Of course, if we could increase membership and raise money through sponsorship, we could become a powerhouse.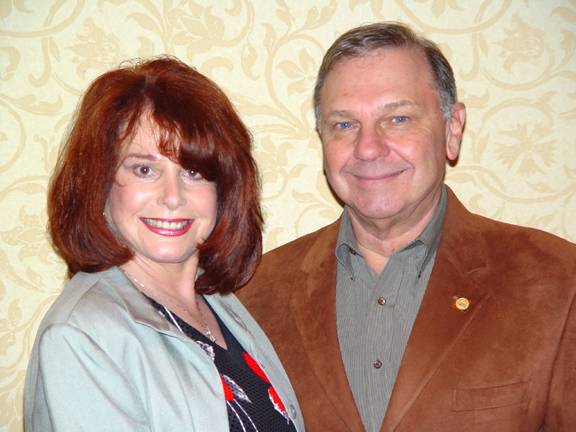 Beverly and Al Levy
---
"Sectional Tournaments at Clubs are growing and should be further promoted. This is a great idea and has helped many clubs and units prosper as well as adding excitement for the players.
"At our premiere tournaments, the three NABCs, we continue to have success. Once again, local volunteers as well as fund raising by unit and district sponsoring organizations play a big role in the tournaments' success. Not only do our members and many foreign players come to play by the thousands, but these tournaments are also the venue where bridge business takes place. One challenge at this level is to choose the right cities and the right locations within these cities. Since the ACBL relies on the revenue from NABCs, there is a lot riding on these decisions. In addition, at NABCs the ACBL should focus on the opportunity for good PR and major press coverage.
"It's important to get bridge into middle schools and high schools. This will ensure the health of organized bridge in the years to come. The ACBL has a major program in place to get a foothold in schools. Also, there are a number of individuals and groups who have generated promotional and teaching material. I see in my own district potentially successful programs in large school districts very interested in using bridge as a tool to help their pupils think logically.
"This objective is not easy to achieve because schools and school districts operate independently. There can be, however, a domino effect if we have some early successes, and the potential payoff is tremendous.
"I plan to put together a blue ribbon panel to look into having local rules officially adopted for some club play. This will allow club owners some latitude in running their club games. Club owners can best determine what their clientele want and what will make their regular club games thrive.
"At the other end of the spectrum, I would like to see the integrity of the North American championships preserved. This includes smaller fields qualifying for the finals and retention of some form of expert panel to resolve appeals.
"Promotion and sponsorship are very important. Making our game more popular will lead to greater membership and open the doors to more sponsorship. To that end, our CEO, Jay Baum, recently hired two top-notch people in the areas of marketing and promotion.